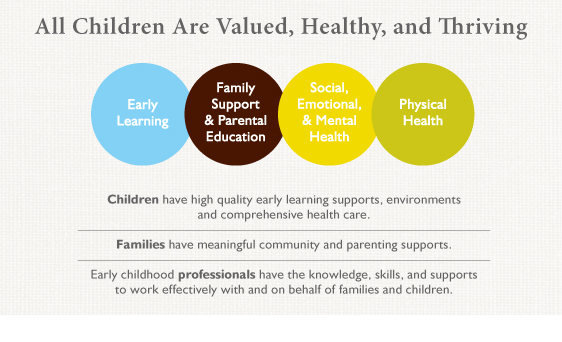 ECPAC brings together diverse Adams County partners in the areas of early childhood education, health, mental health, and family support to help ensure that every child is ready for school and reading on grade level by 3rd grade.
Why we do our work: https://vimeo.com/231559125
ECPAC creates an early childhood system that improves child outcomes through "collective impact"
Build and support partnerships of all groups working with young children and families
Share goals, data and accountability for preparing children for school readiness and success
Fund and invest in early childhood education, health, mental health and family support programs and professionals
Change policy to elevate support for young children and families
Build public support for and engagement in the early childhood system
Click here to learn more: Collective Impact
Adams County's young children will be valued, healthy
and thriving when
All young children are in a high quality early learning environments
Supportive and nurturing teachers/caregivers work with children and families
Families have the community support and the parenting help they need to foster their children's learning and development
Early learning, parenting, mental health and health professionals work together to meet the needs of children and families
ECPAC is one of 31 Early Childhood Councils across Colorado working to increase the
quality, capacity, availability and accessibility

of early childhood services and supports. 

Click here to see the ECLC-FRMWRK-062415-LORES; ECLC-FRMWRK-11x17_spn_web_08_25 that connects the work of all the Councils.
While ECPAC is made up of all partners, there is dedicated staff to support efforts: